2023 5th International Conference on Computer Communication and the Internet (ICCCI)
"Computer Communication and the Internet"
DATE: June 23-25, 2023
Computer communication and the internet have become integral to our daily lives with the widespread availability of high-speed internet connectivity. This has resulted in a growing need to develop new technologies and methods to improve the performance, security, and reliability of computer communication and the internet. Recent research in this field has focused on key areas such as wireless communication, network security, cloud computing, big data analytics, Internet of Things (IoT), and blockchain technology. These advancements have enabled the development of more efficient, secure, and reliable communication networks, benefiting individuals, organizations, and society as a whole.
The 5th International Conference on Computer Communication and the Internet (ICCCI) will be held in Fujisawa, Japan from June 23-25, 2023. Hosted by Shonan Institute of Technology, the conference is sponsored by Central China Normal University, Science and Engineering Institute, with support from Nagoya Institute of Technology, IEEE Japan Council, and IEEE Tokyo Section.
ICCCI 2023 aims to facilitate communication and collaboration among researchers, engineers, and practitioners in the broad areas of computer communications and the internet. The conference focuses on original research results in the areas of theoretical findings, design, implementation, and applications of computer communications and the internet. Both theoretical and simulation-based results are welcome.
We welcome innovative ideas and fundamental advances from presenters and look forward to a fruitful and enlightening conference.

ICCCI 2023 was included in IEEE upcoming Conference List.


ICCCI 2023 obtained non-sponsor support from IEEE Japan Council and IEEE Tokyo Section.


ICCCI 2022 archived in IEEE Xplore and indexed by Scopus, EI.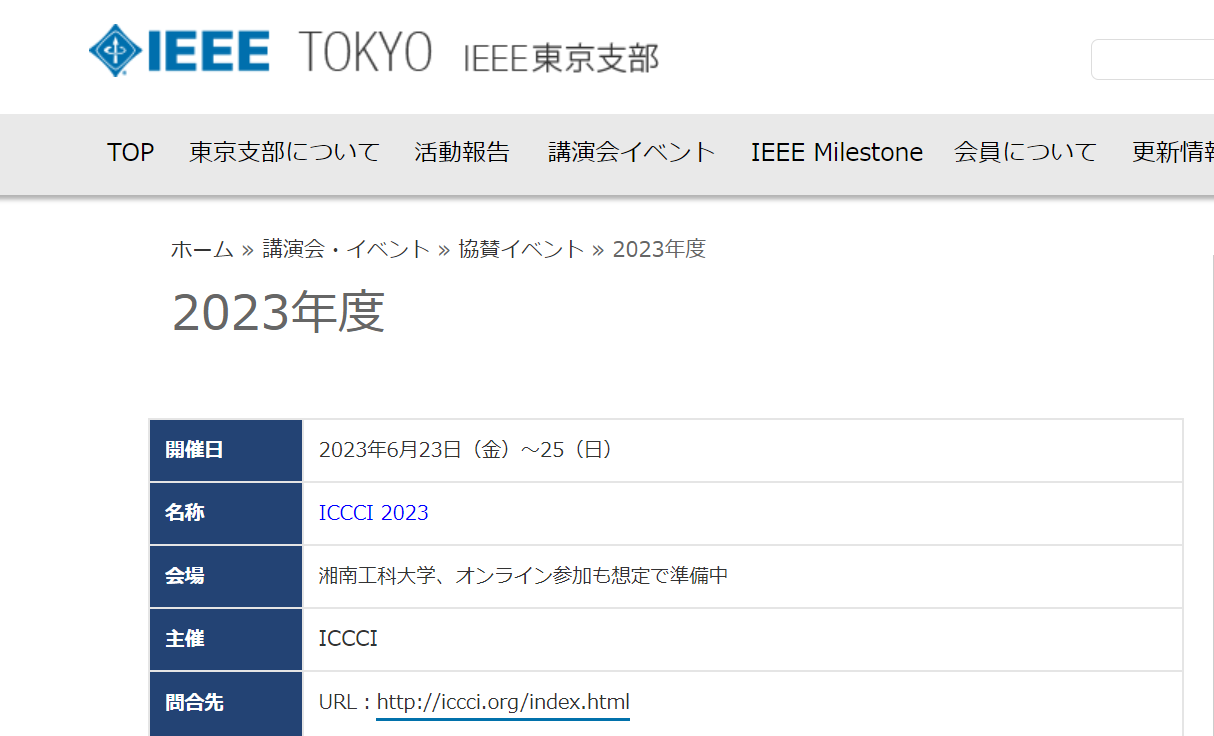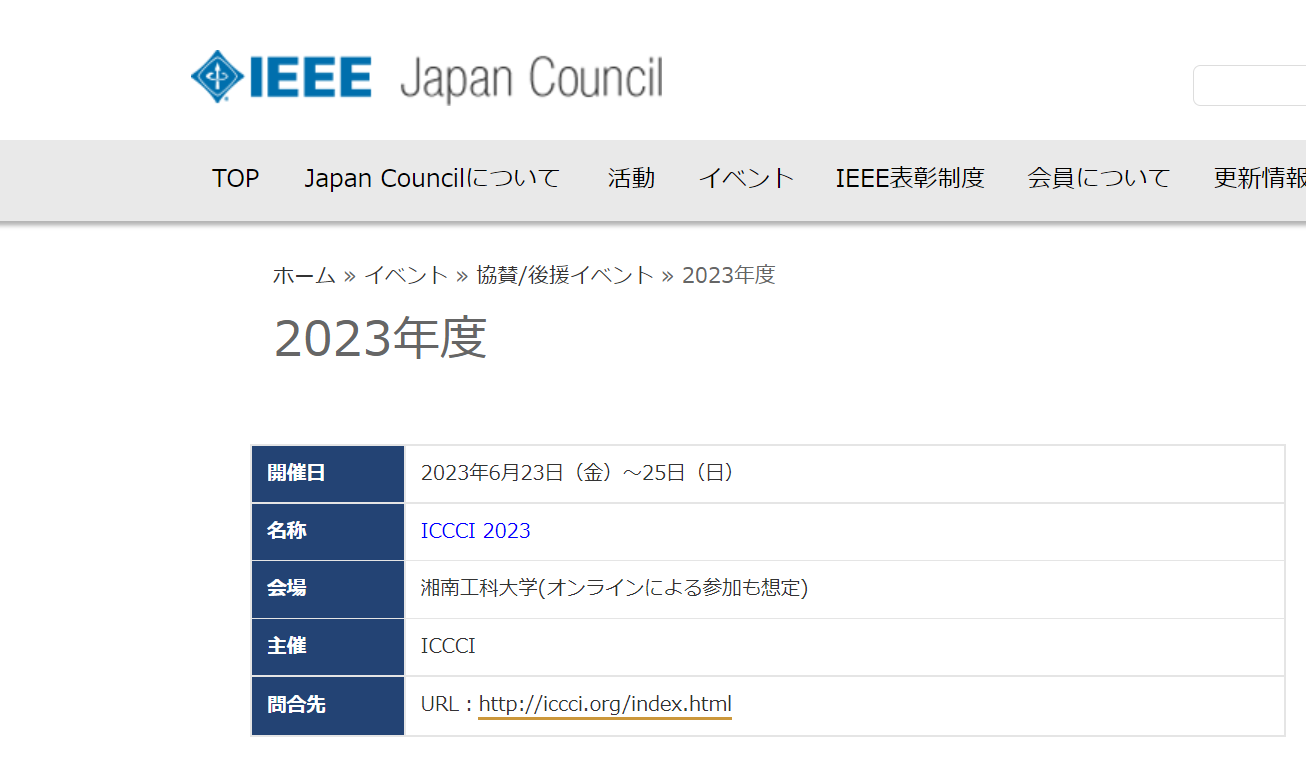 ■Proceedings:


Registered and presented papers will be included in IEEE conference proceedings, and submit to major indexing: Scopus, Ei Compendex, etc.
Proceedings format (Microsoft Word | LaTex) ; Abstract format (Microsoft Word)
ICCCI 2023 included in IEEE upcoming conference list.
Submission is through the EasyChair https://easychair.org/conferences/?conf=iccci2023.
ICCCI'22 proceedings, IEEE Xplore, Scopus, EI Compendex
ICCCI'21 proceedings, IEEE Xplore, Scopus, EI Compendex
ICCCI'20 proceedings, IEEE Xplore, Scopus, EI Compendex
ICCCI'16 proceedings, IEEE Xplore, Scopus, EI Compendex
– Key Dates –
April 30th, 2023 May 15th, 2023 --- Abstracts & Full Papers Submission Deadline
May 25th, 2023 --- Acceptance & Rejection Notification
May 30th, 2023 ---- Final Registration
■ICCCI 2023 Tracks:
Track 1: Big Data and Machine Learning
Track 2: IoT, P2P, Cloud and Edge Computing
Track 3: Security and Privacy
Track 4: Wireless Communication and Mobile Network
Track 5: Advanced systems and Applications
Track 6: Signal Processing
Track 7: VR/AR
Track 8: Social Network/Healthcare
​Track 9: Networked Consumer Electronics
■ICCCI 2023 Special Sessions:
■Program at a Glance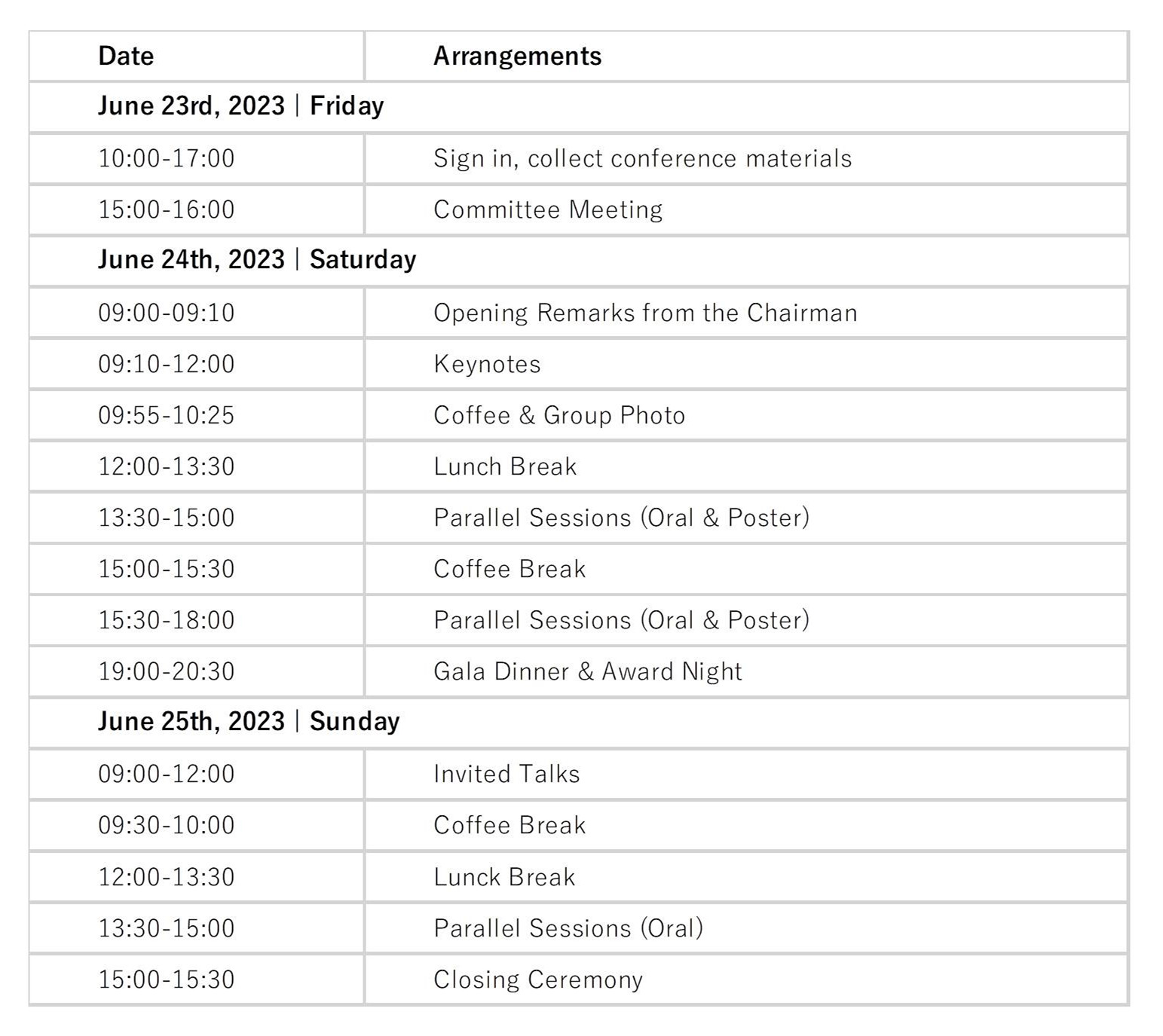 ■Registration
Registration is required in advance. If you wish to participate, please access the registration page for details.
Registration website: Click here
■Information
For further information please contact the ICCCI Secretariat.
Mail: conf-iccci@outlook.com
Name: Sakura Akita