2020 2nd International Conference on Computer Communication and the Internet (ICCCI)
"Computer Communication and the Internet"
DATE: 26th - 28th June 2020
Hoster: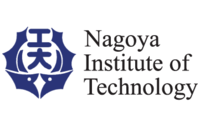 Sponsors:



(Conference Agenda)
The first IEEE ICCCI was sponsored by IEEE and Central China Normal University, P.R.China, which was held in the beautiful and historical city Wuhan in 2016. Following the success of ICCCI 2016 and for years preparation, the Second IEEE ICCCI will be held in 2020 June 26-28.
ICCCI 2020 serves to foster communication among researchers, engineers and relevant practitioners with a common interest of researching in the broad areas of computer communications and Internet, developing scientific and technological innovations in these areas. The primary focus of the conference is on new and original research results in the areas of theoretical findings, design, implementation, and applications of computer communications and Internet. Both theoretical paper and simulation (experimental) results are welcome.
We are looking forward to the novel ideas and fundamental advances presentations.
*FY2016 http://www.iccci.org/2016.html
ICCCI 2016 proceedings online via https://ieeexplore.ieee.org/xpl/tocresult.jsp?isnumber=7778858
Announcement!!
Due to the severe impact of the epidemic, the organizing committee has called an emergency meeting and made the final decision: The onsite presentation will be replaced by the online presentation, which will allow all participants to connect and take part in the sessions from your own computer(s). The health and safety of our participants is our top priority. Thanks for your kind understanding!
– Key Dates –
April 15th, 2020 FINAL CALL: May 5th --- Abstracts & Full Papers submission deadline
May 20th, 2020 --- Acceptance & Rejection notification
May 30th, 2020 ---- Final registration
■IEEE Proceedings:
Registered and presented papers will be included in ICCCI conference proceedings, which will be online and indexed by EI Compendex, Scopus, and etc.
ICCCI 2020 included in IEEE upcoming conference list.


■Special Issue:
Some excellent papers will be recommended to the 'Special Issue ICCCI 2020: Advances in Baseband Signal Processing, Circuit Designs, and Communications' of Information (ISSN 2078-2489). https://www.mdpi.com/journal/information/special_issues/ICCCI_2020
This special issue belongs to the section "Information and Communications Technology".
High visibility: indexed by Ei Compendex, Scopus (Elsevier), Emerging Sources Citation Index (ESCI - Web of Science) and other databases.
Deadline for manuscript submissions: 30 November 2020.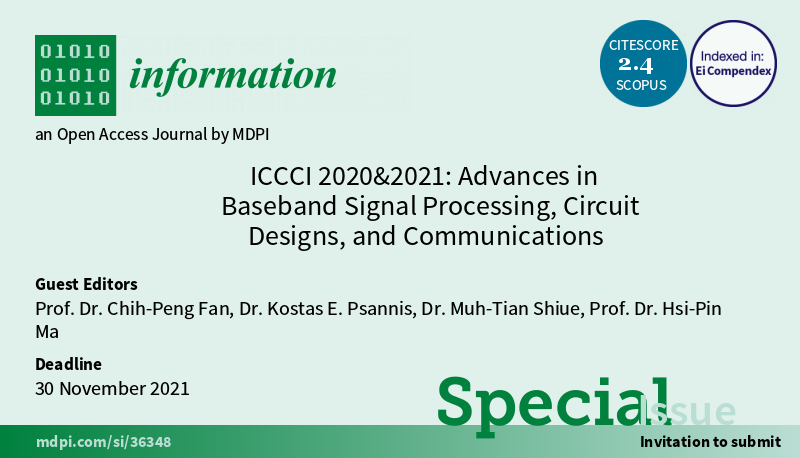 ■Registration
Registration is required in advance. If you wish to participate, please access the registration page for details.
Registration website: Click here
■Information
For further information please contact the ICCCI Secretariat.
Mail: iccci.general@gmail.com
Name: Itou Yuko